ACCOMMODATION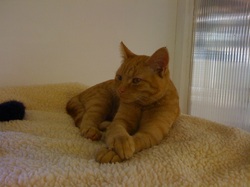 JAMBO ENJOYING HIS STAY
.
At Hotel Pit-Pat Cattery we offer a cosy environment and with only a maximum of 20 guests at any one time we can offer a more personal service for your cat..

Our spacious pens some of which are inter-connecting, to accommodate for larger families, all come with independent heating and natural light. Views come as standard.

All our guests will be provided with toys and scratching posts to keep them amused and
help pass the time. We also welcome you to bring along any "home comforts" to help settle your cat in.
Our pens have a large raised cosy bedding area that is independently heated with a small ladder that leads up to the window viewing shelf where they can stretch out and sun them selves or watch the birds in the garden or the resident squirrel.
You can now join our face-book page and see what your furry friends are up to whilst you are away.

FEEDING

Our guests are fed twice daily from our all inclusive menu , Kittens and senior cats will be fed according to their owners instructions, from Top brands such as HILLS SCIENCE, ROYAL CANIN, JAMES WELL BELOVED ,IAMS, ETC.
From the wet food range we can offer Felix or Whiskas , and for the fussy eater, Gourmet, Sheba, Applaws and Tuna. Fresh chicken and fresh fish is also available.

If your cat is on a prescription diet from the vet please remember to supply more than is required for their stay, just in case of any delays.
THIS WOULD ALSO APPLY FOR ANY MEDICATION OR PILLS .

---